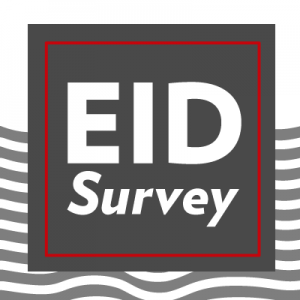 There are many details around the Engagement, Inclusion, and Diversity (EID) Survey. Here are some fast facts to answer any remaining questions for FP&M employees.
The survey period is February 17 – March 13, 2020. Be sure to complete the survey before 4:00pm, March 13, 2020.

The EID Survey occurs biennially (every two years). So, this is a chance to learn about the general temperature of the division and workplace quality until the next survey.

Employees may use paid work time to complete the EID survey. 

Employees may also use unpaid work time offsite to complete online or paper surveys at their leisure.

The EID Survey is not mandatory and completely voluntary. 

Employees who began work on or before January 1, 2020 are eligible to take the survey. Those hired after January 1 are not eligible and will not receive a survey invitation.
---
How can employees take the survey?
Online: The online survey is the default option. 
Employees received an email invitation from

eid@ohr.wisc.edu

to take the EID Survey online, on February 17 (

unless

they had signed up to take a paper survey.)

The survey and email contain six languages for all employees to take in the language of their choosing (English, Spanish, Hmong, Tibetan, Chinese, Nepali)

The email invitation contains a unique link to the online survey that only the recipient may use to take the survey by 3/13/20.

Employees are receiving subsequent reminder emails from Engagement, Inclusion and Diversity <

eid@ohr.wisc.edu

> with the subject line:

"REMINDER: 2020 Employee Engagement, Inclusion & Diversity Survey" 
Paper: Paper surveys were available only by request, only to custodial staff, ahead of time.
Over 300 employees elected to take a paper survey when asked in December, 2019.

Employees who had signed up to take a paper survey were invited to late-night and daytime multilingual paper survey sessions with interpreters on 2/19 and 2/21 

Employees who did not attend the sessions now have another chance to take a paper survey. 

Remaining paper survey packets, cookies, and locked boxes were delivered to Custodial units March 3 -6.

The paper surveys come in a packet with the employee's name on it, and surveys are in the employee's preferred language.

Employees with survey packets may complete the paper surveys and return surveys into the locked mailboxes that were delivered to their unit. 

Complete paper surveys through Friday 3/13. 

Custodial supervisors and leads do not need to return the locked boxes. They will be contacted after survey-close to coordinate pickup of locked boxes by EID team members. 
---
Thank you to those who have already participated in the EID survey. This is an important opportunity to be heard and make a difference.
Learn more about Engagement, Inclusion & Diversity at FP&M: Engagement, Inclusion, and Diversity