In English and Spanish, below / En inglés e español, abajo 
---
Changing the way we talk about COVID-19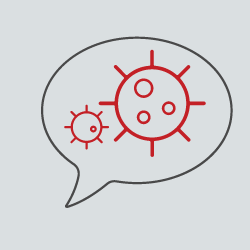 Words matter; including how we speak about the coronavirus and COVID-19. See guidance from Public Health Madison & Dane County to learn more about stigmatizing language (what to avoid) and what can be used in its place.
Avoid

Say

Why

Wuhan virus
Chinese virus
COVID-19
Coronavirus
A pandemic could start in any country— it doesn't matter where it comes from. Associating COVID-19 with China fuels stigma toward people from China and Asia.
COVID-19 case
COVID-19 infection
Person with COVID-19
Person who tested positive for COVID-19
Using "person first" language reminds us that people with COVID-19 are more than an infection.
"She's infected with COVID-19"

"She has COVID-19"
"She tested positive for COVID-19"
People sometimes associate "infected" with severe illness or scary imagery. Stick to the facts to avoid spreading fear and stigma.
People wearing a mask must be infectious
People wearing a mask are protecting me and others
People might wear a mask to protect themselves from germs or to avoid passing germs on— both good things! You do not need to stare at or be fearful of someone wearing a mask in public.
Always get the facts from reputable sources: publichealthmdc.com/covid
---
Español / Spanish
Cambiando como hablamos de COVID-19
Se importan las palabras. Vea los hechos por Salud Pública de Madison y el condado de Dane e aprender sobre el asunto de estigma por el coronavirus y COVID-19, el lenguaje para evitar y cuales palabras se dicen en cuanto a COVID-19.
Evitar

Que Decir

Por qué

Virus de Wuhan
Virus chino
COVID-19
Coronavirus
Una pandemia puede comenzar en cualquier país, no importa de dónde venga. Asociar COVID-19 con China alimenta el estigma hacia las personas de China y Asia.
Caso de COVID-19
infección por COVID-19
Persona con COVID-19
Persona que dio positivo por COVID-19
El uso del lenguaje "persona primero" nos recuerda que las personas con COVID-19 son más que una infección.
"Está infectada con COVID-19"
"Ella tiene COVID-19"
"Ella dio positivo por COVID-19"
Las personas a veces asocian "infectados" con enfermedades graves e imágenes aterradoras. Apéguese a los hechos para evitar propagar el miedo y el estigma.
Las personas que usan una máscara deben ser infecciosas
Las personas que usan una máscara me protegen a mí y a otros
Las personas pueden usar una máscara para protegerse de los gérmenes o para evitar transmitir gérmenes, cosas buenas! No es necesario temer a alguien que use una máscara en público.
Obtenga los hechos de fuentes confiables: https://publichealthmdc.com/espanol