Thank you!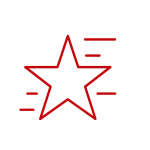 Thanks for nominating an FP&M employee(s) for an Employee Recognition Award! A copy of your nomination has been sent to the email address you submitted in the nomination form.
Please verify that your nomination has the details needed for a good nomination and contact us at recognition@fpm.wisc.edu with any questions! Otherwise, our team will review your nomination and consider it final. We will not contact you for further information, so be sure that you've included everything that you want in the nomination!
Recognizing the great people and work at FP&M is everyone's responsibility. Thank you for taking action! Award recipients will be announced in summer 2022. Stay tuned for more details about the Awards event!
Do you want to nominate another person or team? The nomination period is open through April 18, 2022 and there is no limit to the number of nominations.
Thank you again for stepping up to recognize someone at FP&M!
-The FP&M Employee Recognition Awards Committee
Spread the good word!
Can't get enough employee recognition? Help others learn how to recognize others by printing and sharing this flyer at your workplace.
Nominate for an award here using the online form or print and submit a paper nomination form in any of the following six languages:
English | Spanish| Hmong |
Tibetan | Nepali | Chinese
Please send print forms to recognition@fpm.wisc.edu or mail to the following address: FP&M Recognition Committee c/o Karen Demick
21 N. Park Street, Room 7251
Madison, WI 53715-1227
We are now accepting nominations for the Facilities Planning & Management Employee Recognition Awards through April 18, 2022.
Need help?
It's always a good time for recognition
What's the difference between a giving a Shout-Out and nominating someone for a Recognition Award?
RECOGNITION AWARDS
Nominating someone for a Recognition Award is an excellent way to highlight FP&M employees' contributions, accomplishments, and service to a unit or department. This can be over time. The FP&M Employee Recognition Committee accepts nominations on a year-round basis for the annual Recognition Awards celebration. Do you know someone who deserves to be recognized? Fill out the nomination form above to nominate someone for an award!
SHOUT-OUTS
A Shout-Out is an awesome way to give a brief "thank you" and recognize an FP&M employee in the moment. FP&M accepts shout-outs to be featured on Inside FP&M (inside.fpm.wisc.edu) and in the FP&M Employee Newsletter on a regular basis.
Share your appreciation and make someone's day brighter by sending a shout-out! See the FP&M Shout-Outs form.