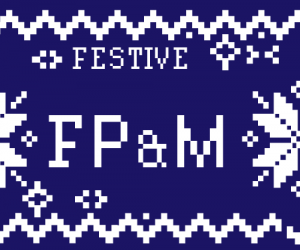 Warm greetings to all FP&M employees! How do you like to celebrate during the winter holiday season? 2020 is a different year, but all the more important to feel some festive cheer…  Share a photo of yourself in your favorite holiday attire.
Get your team in a merry mood
All FP&M employees are encouraged to participate. Submissions can be made by groups or individuals.
How to participate:
Wear a festive outfit.
Take a photo of yourself, with your team, or with members of your household.
Share your festive photos any time before January 4, 2021 end of day, using one of the following methods:
Photo submissions will be shared on Inside FP&M to see how festive we are!
---
We really want to feature you in your festive wear!
Need ideas for photos that are safely festive?
Here are some examples:
Selfie moment.
Wear your festive/holiday outfit in an office on campus with the door closed and snap a selfie using your cell phone or the computer's webcam. Face it, your "party of one" is unstoppable, and no one can tell you any different! Here, you never run out of snacks and everyone likes your music playlist.
Pose, 2020 style.
Get creative posing six feet apart from a few co-workers in your most festive/holiday attire while wearing face coverings (indoors or outdoors). Bold dance moves? A glamorous or funny pose? If that's your thing, you have all month to choreograph your masterpiece…
Festive fam.
Gather with others in your household to show us your unique festive or holiday style. Maybe your pets changed their minds about colorful costumes or holiday headwear. Hey, it could happen!
MS Teams tidings.
Take a screen-shot to show us how you get festive with co-workers while video-conferencing from home. Virtual backgrounds? Shiny flair with a dash of pixelation? Joyful, yet mysterious. Internet delay causing unexpected facial expressions? Embrace the moment. Not only is this world virtual, it's your oyster.
For more guidance on campus health protocols, please see Public Health Protocols from EH&S, updated 12/4/20.
---