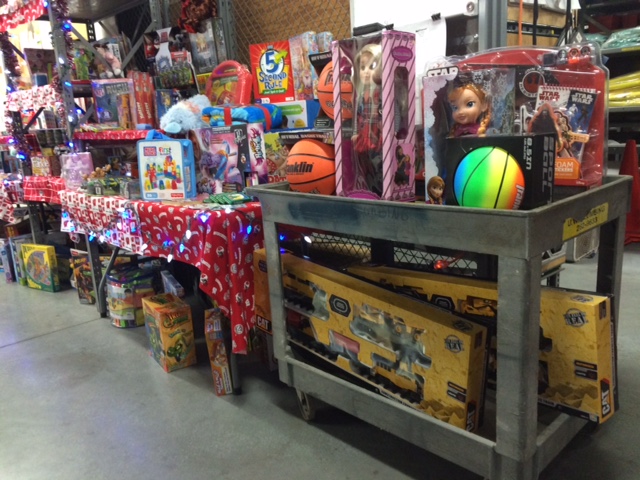 The 2016 Toys for Tots campaign started with the Brats for Tots Cookout and a silent auction, which have combined to raise more than $2100 to buy toys for children this holiday season.
The Brats for Tots cookout was held on October 20 in the Fleet and Service Garage at 27 N. Charter  Street. FP&M employees teamed up with Marines to sell brats, chips, and baked goods to raise money for the Toys for Tots campaign. Volunteers from across FP&M helped put together and run this successful event, including Kathy Bear, Sandy Fure, Sally Hansen, Dave Propson, Dan Stanford, Scott Turner, Jeff Templin and all of his Fleet and Service Garage staff, and Brad Schenkel and his Campus Services staff. Local businesses also helped out with products and services. Colonial Bakery provided brat buns at half price, Alt N Bach's Tavern parboiled the brats and donated ice, C. Coakley Relocation Systems transported the grill to and from campus, and Grainger Industrial Supply provided a cooler. The Brats for Tots cookout raised more than $1100.
The Toys for Tots silent auction ran through October 27 and raised $970. Available items included two pairs of UW Men's Basketball tickets (vs. Maryland & Iowa), a football signed by Coach Paul Chryst, a pair of UW Men's Hockey tickets (vs. Michigan), and hockey puck signed by Coach Tony Granato and others.
The 2016 Toys for Tots campaign runs through December 8. There are two ways you can still contribute. Bruce Skaggs (30 N. Mills, First Floor) and Pam Barrett (30 N. Mills, Third Floor) are accepting cash donations. You can also bring a toy (new and unwrapped, in an unopened package) for a child aged 2-12 and drop it off at one of the Toys for Tots display tables on the first, third, and fourth floors at 30 N. Mills.
For more information, contact Bruce Skaggs (bruce. skaggs@wisc.edu; 890-3730) or Nick Gullick(nick.gullick@wisc.edu; 444-9795).