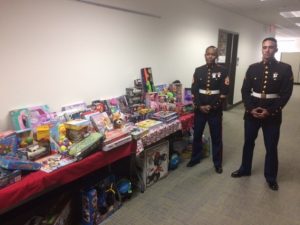 Year after year, we just keep getting better!  This year, through the efforts of many FP&M employees, we raised over $3,000 for the 2017 Toys for Tots.
Stationed at 30 N. Mills and orchestrated by Bruce Skaggs (Physical Plant-Steamfitter Shop), the outpouring of donations from employees, vendors, and volunteers was tremendous. All four floors at 30 N. Mills St. were filled with toys, averaging about 80 toys on each floor.
Brats for Tots
What a beautiful day, and night, is was for the Brats for Tots fundraising event. This event was a major factor and success that contributed most of the funds towards the purchase of toys.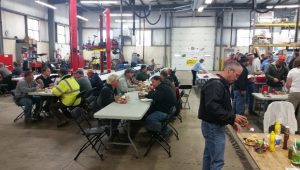 With help from the second shift this year, we raised $2264.50 from the brat cookouts that were held for about an hour during first and second shifts. Along with chips, soda, and water, we had donations of various baked goods. A special thank you goes to the Fleet Garage who worked extremely hard to provide a clean and spacious place for us. Also a thank you to the staff at the Medical Science Center (MSC) for the use of their space. Thanks to Brad Marta and everyone on second shift that pitched in and participated in their first year doing this fundraiser.  Their enthusiasm and generosity was greatly appreciated and impressive.
This year we were fortunate to have an anonymous donor for the 500 pre-cooked brats, how wonderful! With this donation along with several vendors, we were able to keep our direct costs down to only $180.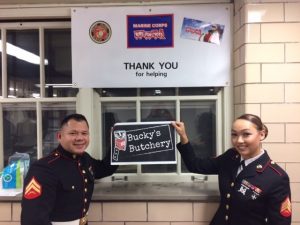 A special thank you to the vendors and shops that generously donated funds or services to make this event happen: ALTn'BACH'S, Miller's Supermarket, Costco, Sam's Club, Bucky's Butchery, and Festival Foods for their donation and discount on the 500 "specially made for us" brat buns. Employees from both Campus Services and the Sign Shop also made special contributions.
A big thank you goes to the many volunteers: Dave Propson, Dan Stanford, Nick Gullick, Kathy Bear, Sally Hansen, Scott Turner, Anjali Sirdharan, Carolyn Brom, Chris Canty, Jeff Templin and his staff along with Brad Schenkel and his staff from Campus Services for helping with the tables and chairs. Without the help of these individuals, we wouldn't have had the success we had. There are many others to thank as well, apologies for not being able to list everyone.
Lastly, this event included a Silent Auction that generated $583 from employees who not only brought in items for the auction but who also bid/purchased items to make it a success. The variety of items donated for this event was truly great.
By Bruce Skaggs (Physical Plant-Steamfitter Shop)