Some FP&M employees are now receiving fresh produce at work as part of a workplace Community Supported Agriculture (CSA) initiative.
Through the CSA initiative, implemented by the FP&M Wellness Committee, Kings Hill Farm is now making weekly deliveries to 30 N. Mills St.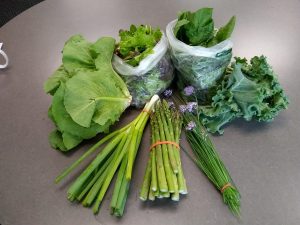 Kings Hill Farm delivers a variety of fruits and vegetables over the course of 20 weeks, and employees have the option of choosing to pick up their produce on a weekly or biweekly schedule.
Bryn Scriver, Wellness Committee member and coordinator of the FP&M CSA program, said the CSA initiative follows an employee demand for organic, locally sourced food. After a survey was sent out to FP&M employees, roughly 75 people showed interest in the program.
Scriver said finding a farm with a flexible delivery schedule was one of the main priorities for the Wellness Committee.
"We wanted to offer this to employees as a benefit of working here," Scriver said.
Kings Hill Farm delivers the produce during the day, directly to 30 N. Mills St., which Scriver said makes this CSA initiative more convenient than others she has been involved in.
"What could be more simple than having fruits and vegetables delivered right to work," Scriver said.
In addition to the convenience of the CSA initiative, Scriver said it is also a great way to eat organically and nutritiously while supporting a local family farm.
Scriver is aware that many people enjoy the experience of picking out their own food at the farmers market. However, she said that since Kings Hill Farms provides resources such as recipes and tips on how to properly store produce, along with a new fruit and vegetable selection every week, the deliveries can be just a surprising and fun as the market.
"I've tried lots of interesting things that I never would have bought," Scriver said.
Currently, 18 FP&M employees are signed up for the program, and although the produce is delivered to 30 N. Mills St., Scriver said employees from across FP&M are participating in the program.
For more information about this and other Wellness initiatives at FP&M, visit https://inside.fpm.wisc.edu/wellness.
By Jenna Walters