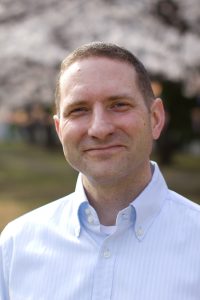 Jay Bieszke joined Facilities Planning & Management as the Executive Director of the Physical Plant on April 2, 2018. With nearly 20 years of experience working in facilities operations, he has worked all over the globe, providing service for the US Navy, the Pentagon, and now the University of Wisconsin-Madison.
As the Executive Director of the FP&M Physical Plant, Bieszke is responsible for maintaining safe and efficient facilities on campus. He is also responsible for facilitating collaboration between the Physical Plant and other departments on campus.
His career brought him to Madison, but there is more to Bieszke than his job. I sat down with him to find out about his hobbies, his family, and his thoughts on Wisconsin culture.
Q: What brought you to UW-Madison?
A: I grew up in Michigan and the chance to return to the Midwest is thrilling. I could have been anywhere in the United States but my family had a preference for being in the Midwest, and it's great to be here as part of a fantastic university. The University of Wisconsin-Madison is a great name and it's a pleasure to be part of this institution.
Q: How do you think your personality can show through in the work you do on campus?
A: I hope that my ability to build a strong team will show through here and be a success for the UW.
Q: So far, what is your favorite part of the culture in Wisconsin?
A: Anytime that I visit the Midwest the people here are fantastic. People here look out for each other and it shows. When you're the stranger they are genuinely willing to be polite and help you out of a jam. They really have a sense of caring about each other that you don't see in all parts of
the United States, and I say that after living in the Southwest, the South, the East Coast, and overseas. Wisconsin has a great part in that. The people here are just fantastic.
Q: What activities do you and your family like to do Wisconsin?
A: I have a wife and three daughters. We like to hike, camp, and paddle. Our love for the outdoors is a big reason why Wisconsin is a great choice for us.
Q: What are some of your own personal hobbies?
A: The first thing that comes to mind is backpacking. About two years ago, my daughters and I backpacked the Appalachian Trail from the Southern end of Shenandoah National Park to the Northern end. At just over  110 miles, it took us a little over a week. It was great experience.
Q: Do you ever face challenges getting your daughters to enjoy the same hobby that you do, or does that come naturally to your family?
A: For the most part, it comes pretty naturally. The Appalachian Trail trip was with my two older daughters. The youngest one at the time was a little bit young to even try that kind of a distance. There were absolutely challenges [on the hike]. On that trip, it rained almost every day, so my middle daughter made it about 60 percent of the distance and then said 'Alright, I'm out'. They are tough girls. You can't find very many eleven-year old Boy Scouts that would have made it that far in those conditions. It was hard, it wasn't all fun. But you have to learn to persevere. And maybe I've done something right because my daughters are at least willing to try it again.
Q: If you could describe yourself in three words, what would those words be and why?
A: Father, Husband and Architect. I think what defines me or what I would want to leave this world and be proud of it's probably those three things. And maybe the first two most important. Work-life balance can be a struggle, but I try to maintain some balance of the great things I'm able to do in my job and the great things I'm able to do at the house and as part of the family. That's really important.
By Jenna Walters