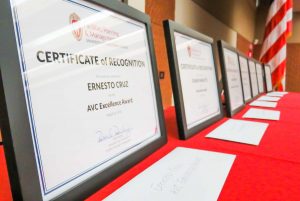 The FP&M Employee Recognition Team reviews nominations to recognize FP&M colleagues for their outstanding commitment to excellence in facilities and services for our campus community and plans the annual employee recognition event. Our Team is recruiting a diverse group of FP&M employees that represent all work units. We are currently seeking:
Physical Plant, Trades – 1 person
Physical Plant, Services – 1 person
Transportation Services – 1 person
Facility Planning & Delivery (CPLA, Capital Planning, Space Management) or Office of the AVC – 1 person from any unit
Environment, Health & Safety (EH&S) – 1 person
Interested in helping to tell the story of great people and things happening in FP&M? Join us! Send an e-mail to recognition@fpm.wisc.edu.
Sincerely,
Donovan Kron and Karen Demick on behalf of FP&M Employee Recognition | Recognition@fpm.wisc.edu  |  go.wisc.edu/nominate-fpm