Do you know everything that Facilities Planning & Management does for UW–Madison? With so many different job functions at FP&M, learning about what our coworkers do can be endlessly fascinating. 
Few know this better than Donovan Kron of Space Management, a member of FP&M's Employee Recognition and Engagement Inclusion & Diversity (EID) committees. Donovan was aware that his colleague Jacob Dolence worked in the FP&M Physical Plant department's Waste and Recycling unit, but that was about it! He decided to sit down with Jacob to get a sneak peek into the day-to-day of a Recycled Commodity Technician within the Waste & Recycling unit on campus.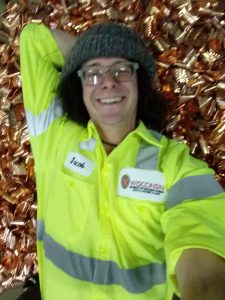 Jacob, who goes by Jake, is the first person to have his position in the department. Since he started, he has transformed how the university deals with metal waste. There is a large market for metal recycling where used metals are bought and sold in order to reduce costs and recycle materials. Before Jake began this position, a lot of high-value metals were recycled at a very low price, but with Jake's help, select used materials are sold at a higher price.
Jake breaks down devices to raise the metal purities, increasing the university's profit return, which helps to fund university systems and operations. Specifically, Jake looks for non-ferrous metals, or those that do not contain iron, to sell. Jake's day consists of "dumpster diving" around campus to find these valuable materials. He then determines whether the nonferrous metal is aluminum, stainless steel, copper, brass, or something else to determine the correct recycling price. 
During their conversation, Donovan learned how Jake's field is making advancements in sustainability. Jake is a member of the Sustainability Advisory Council (SAC), which has been tasked with developing strategic sustainability recommendations for  UW–Madison. The SAC considers a range of topics, from student curriculum and available courses, to waste management, and everything in between. Jake also explained how the university is working with a contractor to perform pyrolysis, the process of turning plastics into crude oil as a way of recycling and reusing plastic. Advancements in recycling such as this are an exciting development in the world of sustainability, and it is only the tip of the iceberg. 
Along the lines of cutting-edge sustainability efforts, Donovan and Jake also talked about the university's innovation patent program, which encourages employees and students to submit their inventions to create a better community and world. This program is made possible by the Wisconsin Alumni Research Foundation (WARF). They take on patents and innovations that benefit both inventors and the rest of the world. If an innovation is chosen, WARF will pursue the patent and companies to lease the patent, then give the inventor 20% of the profit. This process is time-consuming and expensive, so having help from the foundation is extremely helpful for the inventor. Inventors can submit ideas online and wait to hear back for further steps. This program is one of the many resources for staff and students at UW-Madison to contribute to making campus and the world a better place. Jake has even submitted some of his own ideas to the foundation! 
When Jake isn't working with metal recycling, he is an ambitious and aspiring innovator in his free time, having participated in both the Design to Product (D2P) and WARF programs. Jake said he has "a pile of ideas," that he is looking forward to showcasing at trade shows.
After his interview with Jake, Donovan commented that he was "surprised most to understand all the different ways a Recycled Commodity Specialist can engage with purpose on campus; as Jake humbly performs his daily duties he is motivated by a sense of mission and believes he can make a difference through his work and collaboration with others." 
"The coolest part of getting to know Jake was connecting with his enthusiasm and optimism," said Donovan. "Stepping (virtually) into his home space surrounded by 85-year-old cacti and his 180-pound dog, Zephyr, to learn about what he does as the Campus Recycled Commodity Specialist was really fun."
Learn more about Jake's work and innovations by emailing him at jacob.dolence@wisc.edu, and check out sustainability at UW and the WARF program.