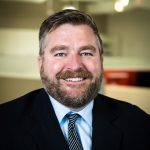 UPDATE: Congratulations to Joel Malak who has moved from interim status and as of March 2022, is the Director of Environmental and Occupational Health!
Joel Malak (he/him/his) has been named interim director of Environmental and Occupational Health (EOH) in FP&M Environment, Health & Safety. Malak transitioned into this interim role on September 13, 2021.
Malak first joined UW-Madison in 2009 and served as a part of the EOH team (then part of University Health Services) as a staff nurse, lead nurse, and nurse manager until 2019. He returned to campus in July 2021 after nearly two years with Quad/Med where he served as Manager of Occupational Health and Director of Clinical Services.
"I feel fortunate that I have the opportunity to bring my knowledge and background in environmental and occupational health to support our group and our institution," says Malak. "On my homecoming to UW, I look forward to returning to my team, learning from them, as well as sharing my recently-learned experiences from industry." 
In addition to serving on many campus committees focusing on emergency planning, health and safety issues, and other health issues, he served as the Incident Commander/Point of Distribution Manager during the 2016 Meningitis B outbreak (which vaccinated 21,000 in 7 days at UW-Madison). Most recently, he played a key role in COVID-19 pandemic response while at Quad/Med and will remain heavily involved in the university's pandemic response in his interim role.
"We were very excited when Joel re-joined our organization in July and we appreciate his support of our EOH team by assuming the additional responsibilities of interim EOH Director," says Chris Strang. "His previous campus experience and familiarity with our occupational health programs has allowed him to step into the interim role and get up to speed quickly."
Malak holds bachelor's degrees in business administration and nursing from UW-Oshkosh, a masters of public health from UNC-Chapel Hill, and is currently enrolled in the doctor of nursing program at UW-Madison. He is a member of the American Association of Occupational Health Nurses (AAOHN) and the Wisconsin Occupational Surveillance Advisory Group (OSAG).
Malak succeeds Jim Morrison, who left the university in August 2021.