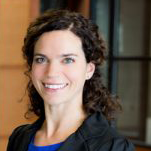 Lindsey Honeyager (she/her) has been named as FP&M's Chief of Staff. She will begin this position January 17, 2023, with nearly 15 years of UW-Madison facilities experience, including leadership roles at the Wisconsin School of Business (WSB), Wisconsin Union, and most recently, the School of Education (SoE).
As the Assistant Dean for Facilities/Facilities Director at the SoE, Lindsey led the facilities team and served as the school's liaison to FP&M.
"From work on major renovations, space planning, beautification, sustainability, resolving safety concerns, and parking, I've developed strong relationships and a great understanding of how various FP&M areas and processes work," said Lindsey. "I really admire all the fantastic colleagues at FP&M that I've worked with over the last several years and am excited to work alongside them in a new way to advance FP&M's priorities and continue to make this organization top of class."
Lindsey has played key roles in many large projects, including the Kinesiology relocation and renovation in the Medical Sciences Complex and WSB's highly successful Learning Commons Project, a $12 million dollar, 36,000-square-foot renovation that transformed three floors of Grainger Hall into a contemporary learning and study space with cutting edge technology, designed to support the needs of today's students.
"Lindsey's wide-ranging and impressive background in facilities, along with her familiarity with UW-Madison are valuable assets for FP&M," said Associate Vice Chancellor Cindy Torstveit. "Her leadership skills, strong relationships, and experience with capital planning and renovation projects have been evident in her work on campus. Her ability to balance day-to-day priorities with facilities emergencies, while also driving progress on key projects will help FP&M accomplish our goals."
As Chief of Staff, Lindsey will provide high-level support to both Cindy Torstveit and Deputy Associate Vice Chancellor Margaret Tennessen, serving as an adviser and helping to organize and prioritize critical issues. She will also manage special projects, such as advancing strategic initiatives and campus priorities. 
"I'm excited about the people and the mission of this organization, as well as the opportunity to serve all of campus," Lindsey said. "I really look forward to working more closely with everyone at FP&M, and I'm energized by the commitment to excellence throughout the organization."
Lindsey is an APPA Certified Educational Facilities Professional (CEFP) and has also served on the Diversity, Equity, and Inclusion Task Force for APPA International, the professional organization for educational facilities. She holds a BS from the University of Wisconsin-Madison in human ecology with an emphasis on communications and consumer science.