What's your job? is a new series focused on the work of FP&M employees. As the largest and most diverse nonacademic unit on campus, it can be challenging to learn everything our division is responsible for. These stories will shine a light on FP&Mers and what they do to keep campus safe, sustainable and successful.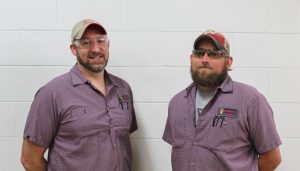 Like many Facilities Planning & Management employees, Luke Hendricks and Tim Lanzhammer's work plays a vital role in sustaining the UW-Madison campus community. Unlike some employees, however, their work isn't accomplished in a normal shop, jobsite or office setting.
As environmental health & safety specialists in the FP&M Environment Health & Safety department (EH&S), the two spend their time collecting excess or unwanted chemicals from university labs and safely identify, sort and prepare them for disposal or redistribution to campus. These chemicals are too hazardous for normal trash or sewer disposal, and so require the expertise of trained professionals.
Luke and Tim accomplish this task via scheduled lab pick-ups every Monday, Tuesday and Wednesday, then sort the chemicals according to hazard, and transfer the collected flammables into barrels. Next, the barrels are loaded and shipped to an off-campus disposal site every 90 days.
In any given year, at least 250,000 pounds of chemical waste is removed, enough to fill about 12 Olympic-size swimming pools.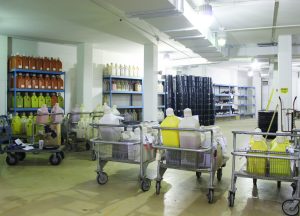 Thursdays are reserved for shop days, where the two replenish their online chemical redistribution inventory. The inventory's contents are then ordered by UW-Madison's labs, allowing the labs to receive free chemicals that the university does not have to pay to dispose.
The university's chemical waste removal is an operation that never ceases, but as is the case with any toxic or volatile substance, Luke and Tim's work isn't without danger.
"Before shipping, we have to look at every bottle or container and identify what it is and any potential hazard it holds," Luke said. "There are chemicals we store and ship that could kill a person within minutes if they're unknowingly exposed. When going into the labs, we need to wear protective uniforms to avoid damaging our clothes and shoes. So, caution is a big part of what we do."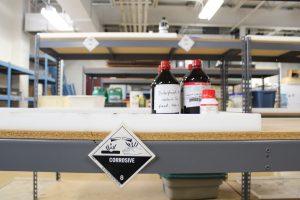 Caution especially comes into play when the team is dealing with unknown substances, which happens fairly often.
"We understand the labs are done with these chemicals but at times I admit more assistance would be appreciated," Tim said. "It helps us out a lot when chemicals are labeled, so we know what we're handed before we can designate it for disposal."
Like their fellow EH&S safety professionals, Luke and Tim are no strangers to the unique risks of their job. These teams find a way to solve for any unknowns on a daily basis, much to the benefit of the safety and health of those who learn, live, work and visit campus spaces.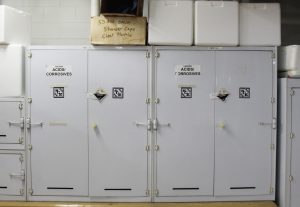 Luke joined EH&S back in 2008, while Tim joined in 2010. Holding a degree in chemistry, Luke works to identify and label the chemicals received, while Tim is an expert on the packaging, paperwork and distribution side of the operation.
Each found a natural fit in their current positions, given their respective backgrounds. Luke always had an affinity for chemicals but knew early on working as a regular chemist wasn't for him.
"I first got into chemistry due to a fascination for fireworks and wanting to learn about how those reactions worked," Luke said. "Then in college I discovered there's no degree for fireworks and so went the chemistry route, but learned during that process I didn't want to work in a lab."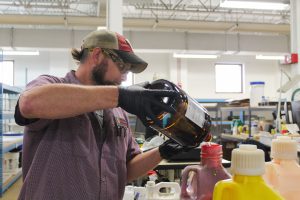 After college, Luke found work as a waste vendor for the Texas A&M University System. Once he learned how to properly ship and dispose of chemicals, he moved on to his current job at EH&S, where he now puts his degree and skills to use on the front-end of the disposal process.
Coincidentally, Tim also became involved in the chemical business while working as a waste vendor. Unlike Luke, however, his company directly serviced the University of Wisconsin System. During this period, Tim went to every UW System university and became very familiar with lab packing — mastering the safety protocols concerning every carboy, container and bottle.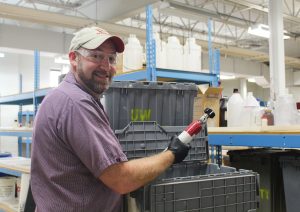 After three years of traveling around, Tim decided to look for something more stable, and soon joined Luke at EH&S Chemical Safety in Madison.
"At this point, I'd consider myself a walking chemical library in terms of how the Department of Transportation and Environmental Protection Agency classify them," Tim said. "I'm very organized and have a great memory. When I see something, I can tell you right away how it's going to get shipped or stored."
Luke and Tim have proven an effective team in the time since their partnership began. Their impact has led to many improvements in daily operations, including increased efficiency in storing and shipping, saving both time and money.
Professionally and personally, the two FP&M employees complement each other well. Equipped with distinct strengths and interests, there's no problem they can't overcome. As a result of this "chemistry," the whole campus community benefits.
Want to learn more about chemical disposal? More information is available on the EH&S Chemical Disposal webpage. You can get in touch with Luke and Tim at lucas.hendricks@wisc.edu and timothy.lanzhammer@wisc.edu.
By Eric Herbst