Rob Lamppa, Executive Director—Physical Plant
As part of our ongoing effort to better communicate with our campus customers and more effectively represent the services that we provide, we have decided  to rename two Physical Plant units, effective immediately.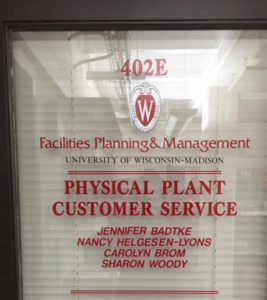 CARS now Physical Plant Customer Service
The Central Answering and Response Service (CARS) unit has been renamed as Physical Plant Customer Service. PP Customer Service will continue to serve as a main point of contact for all service requests for campus customers. Service requests will continue to be submitted via telephone  (608-263-3333), a NetID authenticated web form, and via a new email address (ppcustomerservice@fpm.wisc.edu). The current email address (pcars@fpm.wisc.edu) will remain in service during this transition and will be forwarded to the new address.
PAC now Campus Renovation Services
The combined Project Administration Center (PAC) and Architecture/Engineering unit will now be known as Campus Renovation Services. This unit will continue to be responsible for the design and construction of non-capital projects on the UW-Madison campus.
The Physical Plant administrative team is working with FP&M communications to create a plan for updating our websites, print materials, and signage and for educating our campus customers about these changes.