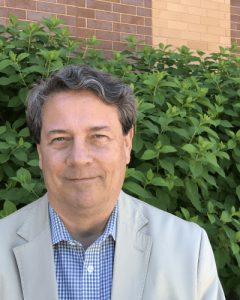 Christopher McMahan became the Executive Director of Facility Planning & Development (formerly Director of Capital Planning & Development) on June 25, 2018. With over 30 years of experience in architecture and facilities planning, McMahan joins the UW-Madison community ready to work to design and build our vast campus environment.
As an East Coast native, McMahan is excited to live in a Midwestern city and experience all that Madison has to offer.
I sat down with McMahan to learn more about his life as a designer, stepdad, and dedicated creative.
Q: What was your dream job as a child?
A: I always knew I would be a designer. Some of the earliest memories I have include wanting to be an artist and a designer. I bring the same process to thinking about FP&M.
Q: What aspect of your new position at UW-Madison will challenge you in a way you have not been challenged in the past?
A: The reason I came here is that I see it as a really terrific challenge. The scale is a challenge to begin with. The University of Rhode Island is a billion dollar organization whereas UW-Madison is a 3 billion dollar organization. UW-Madison is a very big university with a lot of different projects going on at various levels. It's complex in terms of the communications. I understood my past university because I worked with every dean, I routinely presented to senior leadership, and I knew most of the campus-wide needs. The challenge is in doing all the same things that were in my comfort zone at the University of Rhode Island at a university of a much larger scale.
Q: How do you think your personality shows through in the work that you do?
A: I subscribe to what is a core cultural value here at FP&M which is to respect and trust your team members. My personality is one where I would rather see us all agree in consensus and create an environment where everyone is finding satisfaction and fulfillment in the work that they're doing. I like an environment where people feel they can be open, direct, and clear about what their work objectives are.
Q: What do you consider your greatest accomplishment?
A: On the professional side, I think many of the firms that I've worked in I've brought a lot of success to. Some of the buildings that I have designed and put in place are things that I also look back on with a lot of satisfaction. On the personal side, raising my stepchildren with my wife was certainly one of the things I'm very happy about. We have two adult children who are married, and we have grandchildren now. It's a real pleasure to look back on.
Q: What brought you to Wisconsin?
A: My stepdaughter, her husband and our grandchild are living in Milwaukee. Being closer to them was one of the draws. It's nice to be able to see my grandchild more frequently.
Q: What is your favorite part of the culture in Madison?
A: I love the farm to table scene here. I think it's really terrific. The heritage of farming in this area is just amazing. The vigorous nature of the farming community and its relationship to the state is very impressive. I also think there is a strong tradition of the arts here, and that is an important part of any community.
Q: What activities do you like to do in the Madison area?
A: I have been exploring the city. I went to the art fair and the farmers' market this weekend. I am also looking for a bike since there is a well-developed bike culture here.
Q: What are some of your hobbies?
A: I'm keenly interested in painting. If there's one thing that my wife and I do consistently it's going to museums and galleries. Our other interest is in concerts. We really like to go to the symphony.
Q: If you could describe yourself in three words, what would those words be and why? 
A: Creative, curious, and collaborative. What I know about myself after all these years is that there's always a creative response to things. And I think curiosity and collaboration are part of that process.
By Jenna Walters