FREE STAFF INTRAMURAL SPORTS FOR VCFA/VCSA EMPLOYEES!
Are you looking for a chance to show off your skills in Sand Volleyball, Kickball or Cornhole? Do you want to get outside, meet new people, and have some fun this summer?! Rec Sports is launching their second intramural sports for staff FREE of charge throughout the summer. Enticed already? All registrations are currently open here. The Wisconsin Union is providing food coupons for teams and Recreational Sports will be providing the coveted Intramural Sports t-shirt to winners!   Here is how you register: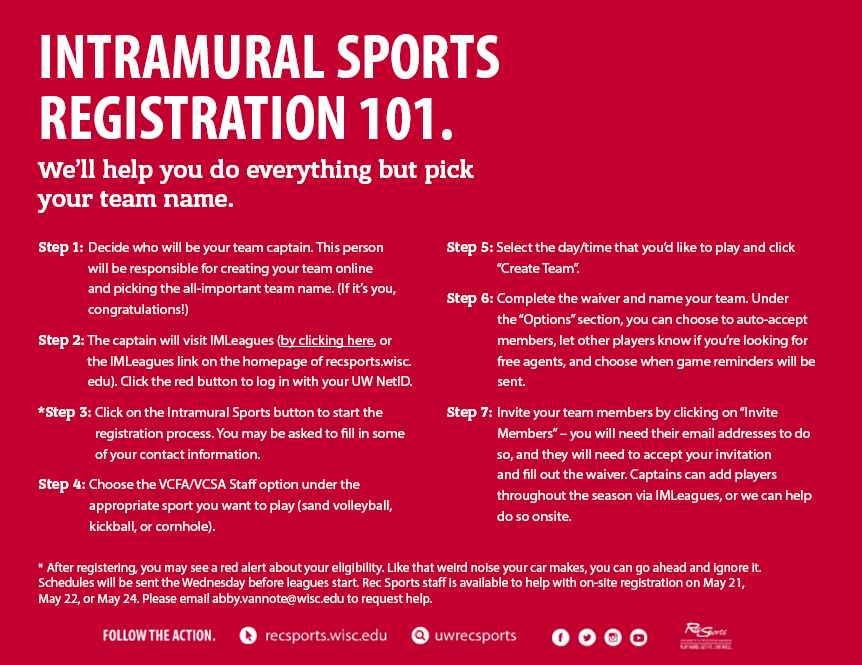 Sand Volleyball
When: The Sand Volleyball season will run from June 3rd-July 17th either Mondays or Wednesdays, 4:45pm or 5:30pm.
Where: Cole Recreation Area
Register by: May 28th
Kickball
When: The Kickball season will run from July 8th-August 23rd on Tuesdays, 4:45pm or 5:45pm.
Where: Near West Fields
Register by: July 2nd
Cornhole Tournament
When: Monday, August 5th (4:30pm-8pm)
Where: Memorial Union Terrace
Register by: July 30th
Any questions? Email Abby Van Note at abby.vannote@wisc.edu.