Bike Week is June 1-8!
Madison's Bike Week will feature big, well-established events such as Ride the Drive and Bacon on the Bike Path, as well as Bike Stations with free treats or bike checks, organized bike rides, or special Madison Bike Week offers from local businesses.
The Madison Bikes vision is a city where anyone can ride to any place comfortably and conveniently, and Madison Bike Week is an important part of making that vision a reality.
Bike Week celebrates riding to work, to school, to a park, to the library — or biking to feel the warm wind blowing through your hair.
There are lots of ways for you to get involved with the biggest celebration of bikes in our city. Check out Madison Bike Week website for more information and to see all of their events: https://www.madisonbikes.org/bikeweek.
Ride the Drive!
Looking for a FREE biking event that the whole family can enjoy? Ride the Drive features entertainment, food, and family-friendly activities at three downtown area parks. On Sunday June 2nd from 11:00am-3:00pm, bike on down to Brittingham Park, Olin Park, and Law Park to enjoy a four-mile bike route filled with fun, family, and friends. To learn more about this event, check out https://www.cityofmadison.com/parks/ridethedrive.
Slow Roll Your Way to Work! – Monday through Friday
Up for a relaxing coffee, muffin, and bicycle filled morning? Come on down to the corner of Monona Dr and Buckeye Rd to Lake Edge Shopping Center to enjoy breakfast snacks, friendly conversations, and bike checks courtesy of Crema Café and Slow Roll Cycles. For more information check out: https://www.madisonbikes.org/bikeweek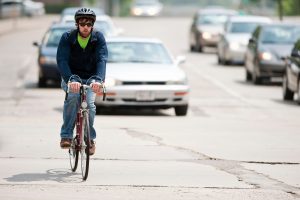 A bite to eat, and a quick bike tune-up before your ride to work will surely start your day off right. Join Slow Roll Cycles and Crema Cafe all week (June 3rd-7th) for this fun bike experience!
UNIVERSITY BICYCLE RESOURCE CENTER
Are you excited for spring weather? Does your bike need a tune up? Come to the University Bicycle Resource Center for free access to air pumps, bike grease, lube, and many other useful tools to get your bike ready for spring time biking festivities!
Bike Air and Repair Stations are located all around campus.
What the University Bicycle Resource Center offers:
Free use of tools, air pump and grease, lube and other supplies as available
Bicycle repair manuals
Bicycle maps
Bicycle registration assistance
Alternative transportation expertise of our student employees
Monthly bicycling events, such as classes, clinics and more. Check this space for details as they become available
Visit: Transportation Services – Bike Resource Center for more information!