FP&M telecommuters tell tales with a glimpse into their work-from-home/telecommuting situations.
---
In-Demand Work Station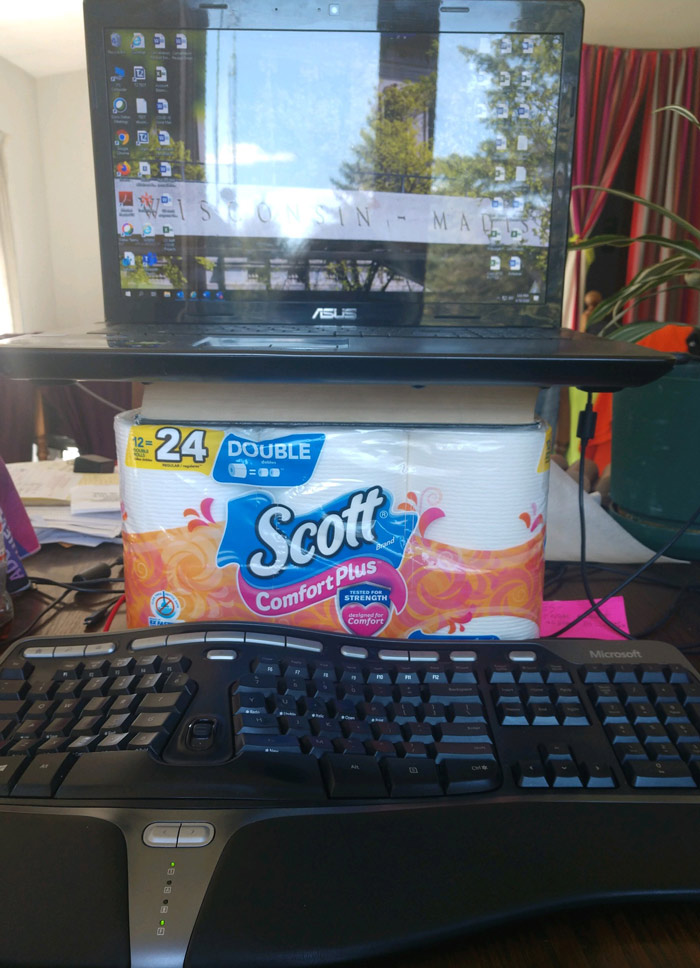 I am sharing my current workstation as I telecommute. I probably have the most in-demand work station around!
– Sue Thalacker, Transportation Services

---
Traveling

Traveling I'm doing these days: views from the office.
– Kayla Ruplinger, OAVC/HR

---
Interrupter
Today my co-worker interrupted a Webex meeting by attacking the pull string on my hoodie.
– Andrea Ladd, EHS

---
Bored Assistants

My assistants, bored while I am on a conference call. Blossom (black one) and Koa (liver one) my two German Shorthaired Pointers,
– Carrie Ensrud, EHS
---
Volunteer
Karma has volunteered to help out with FP&M's Purchasing activities. However, these spreadsheets tire her out.
– Dave Teske, OAVC
---

Attic Vibes

The only unoccupied space in the house becomes my office. At least there's a window in the attic.
– Kelly O'Loughlin, OAVC
---
Do you have a funny, impressive, or interesting work-from-home photo or video?
Share it in an upcoming Employee Newsletter by sending it to marketing@fpm.wisc.edu.