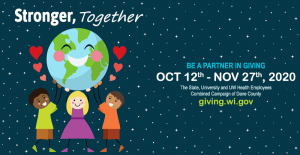 This year's Partners in Giving campaign will look different than prior years. If you have already participated in charitable giving through another avenue, thank you! If not, please consider this one-time option to donate—at any level— and make an impact by contributing and combining forces with all Wisconsin state employees. Keep up the spirit of community giving in FP&M this year, even without the events. Here are some tips to make your giving plan:
1. Find your organization
With so many options under the Partners in Giving program, find the opportunity that speaks to you. Whether it's an umbrella organization or direct to one of the community charities, you can't go wrong.
2. Know how to give
There are multiple ways to give!
Do an e-pledge by clicking the orange "Donate Now" button on the Partners in Giving site.
Print out this pledge form (pdf) and mail your completed form to Partners in Giving, PO Box 7548, Madison, WI 53707-7548 OR email your completed form to to partnersingiving@uwdc.org. You may give through payroll deduction and check with this option.
Use the paper form and booklet once it is distributed. More details coming as we will have limited numbers of paper copies starting the week of October 12.
Request a paper copy sent to your home through this form.
3. Make your one-time or recurring donation from October 12 – November 27
Remember, this is a once a year opportunity. Once you have your plan in place, make sure to complete your one-time or recurring gift through one of the avenues listed above.
Thank you in advance for keeping the FP&M giving spirit high this year!
**Translated materials will be available the week of October 12.