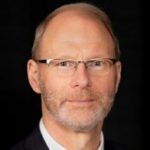 Robert Cramer joined FP&M as interim Associate Vice Chancellor (AVC) on November 23, following Alan Fish who had served in that role since January 2020. 
AVC Cramer sat down with our Communications Director to answer a few questions about his personal life and professional background for FP&M employees.
Can you tell us a little bit about your family? 
We live in Platteville. My wife and I love Southwestern Wisconsin. We have three older children who are pursuing their own paths now.
Do you have any pets?
We do not currently have any pets. Dogs were a big part of our family for many years, and may be again at the right time.
What does your perfect day off look like? 
Hiking in Governor Dodge State Park or exploring one of Wisconsin's great small towns. 
What's helped you get through the pandemic so far? 
Taking time to be grateful, working with all the UW campuses while at UW System to support them, recognizing we will get through this, and spending time with family as each of our children was home at some point.
Coffee or tea or…?  
Coffee. I'm now a regular at Indie Coffee in Madison. In Platteville, it's always Badger Brothers.
What do you do in your leisure time?
Walking and hiking, reading, and attending American Players Theatre (before this year).
Do you have a favorite local trail?  
Governor Dodge State Park has many trails we enjoy. 
Is there somewhere that you want to hike that you haven't yet? 
The Ice Age Trail in Wisconsin is on the to-do list.
What sort of cycling do you do? 
Recreational road biking. I look for hilly routes in the Platteville area.
What's your go-to ride on a beautiful summer day? 
To the "M" near Platteville, and then to Belmont and back.
Do you ride year-round? 
No. I put the bike up in the late fall.
What are you reading now? 
Thank You for Being Late (Friedman), The End of Everything (Mack), and The Perfect Weapon (Sanger).
Paper or ebook or audiobook? 
Paper.
What's the most impactful book you've read recently? 
The Warmth of Other Suns (Wilkerson).
What's the book you most often give as a gift, if there is one? 
I do not tend to give books as gifts. Chocolates and socks more often.
Do you follow any sports? If so, who do you root for?
College sports predominantly. Badgers and Pioneers.
Do you like listening to music? Do you play an instrument? 
I enjoy listening to a range of music but don't play any instruments.
Can you tell us about your professional background? 
I am fortunate to have served the State of Wisconsin and the UW in a number of ways during my career. This includes Vice President of Administration at UW System, Vice Chancellor for Administration at UW-Platteville, and Secretary of the Wisconsin Building Commission.
Where did you go to college and what was your area of study? 
I attended Alma College, in Michigan, and earned my bachelor's degree in economics. I came to UW-Madison and earned masters degrees in economics and public policy.
How did you get into state service and what motivated you to start working for the state? 
Public policy and administration are long-standing interests of mine. When I graduated from UW-Madison, I was hired by the Department of Administration, in the State Budget Office.
How do you view your career?
One of my early career steps was to leave public service. I spent a year at a consulting firm. That was very formative for me, as I discovered that I missed the mission and focus in the public sector. 
The opportunity to serve, to contribute to a public purpose, has resonated with me through my career. I hope that my leadership and management have positively impacted the organizations I've been in, the people I have worked with, and the state. 
Do you have a mentor? If so, what's something you've learned from him/her that's made a difference? 
I worked for and with a number of exceptional leaders during my career, and I hope that I have learned something from each of them. All were mentors in one way or another. One of the elements I have learned from several is to embrace the challenges we are presented with, see them as opportunities, and work with a team to determine how to move forward.
What's something that you're particularly proud of from the last year or two? 
The UW Restructuring, from 2017-2020, is an accomplishment that I am proud of. The dedication and commitment to making this successful across the UW System was inspiring. This same dedication and commitment is visible in the responses to COVID-19 at UW-Madison and the other UW institutions.
What do you hope to accomplish in the next year or two? 
My priorities at this point are to work with people in FP&M and at UW-Madison on building partnerships to advance our work and the mission of the university, address budget issues, promote a strong capital budget, continue the work of the division to provide excellent service, plan for the next steps in our response to COVID-19, and promote sustainability. Within these there are many exciting opportunities and details that I look forward to tackling in collaboration with others.