Now that Spring Semester has come to a close, a big-time thank you goes out to those at FP&M who helped make commencement happen for the UW-Madison Class of 2021.
Commencement returned to Camp Randall this year after being held virtually in 2020.
---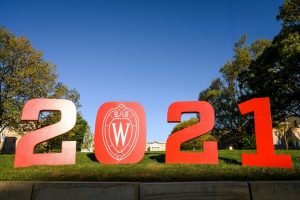 Physical Plant delivered on big lifts
'2021' numbers on Bascom
University Marketing approached the Paint Shop to find a way to create 5-ft. tall numbers at the bottom of Bascom Hill to honor the class of 2021. Shout-out to Andy Niedermeier, Kent Casey, Jamie Kruger, Layton Searight, and Tim Marsden for working on the new 2021 numbers!
Moving a goal post
We've all heard of "moving the goal posts" as a figure of speech, but this is the real deal! Shout-out to Phil Friend, Mike Clough, Robert Anderson, and Shandon Gehrke for removing a goal post at one end of Camp Randall to make room for the commencement stage.
Onsite support for Commencement
Shout-out to Derek Klitzke who was onsite for DDC support.
Thank you to Pete Severson and Randy Haskins who were onsite for electrical support.
Shout-out to Dave Stevens who was onsite for fire alarm support.
Thank you, Tom Chapman, who was onsite for elevator support.
More shout-outs go to Bart Munger and James Krause for being onsite for plumbing support.
Planning and preparation
"Please give my deepest thanks to the entire Campus Services team who helped make Saturday such a success – we are so lucky to have such a dedicated and supportive team to pull off such a truly complex event in the midst of the global pandemic. Thank you, for all of your leadership and expertise in making everything run so smoothly!"
-Carrie Olson, Office of the Chancellor
We'd like to recognize Brad Schenkel, Ross Berge and the entire Campus Services unit as a team for Commencement. The amount of planning and preparation to achieve this unusual but successful event is amazing.
Carpet Recycling Program
We'd also like to recognize other key members of the Campus Services team contributing to the UW-Madison sustainability effort: Malik Mitchell and Mike Tracy for their support of the University's Carpet Recycling program during student move out.
Plants and flowers
After a year of reduced staffing, Grounds did a tremendous job playing catch-up and preparing the outdoor venues to exhibit this beautiful campus for our students, visitors, and guests.
We'd like to especially recognize Danielle Smith, Madison Weedon, Patricia New, Robert Scott, Stephen Skinner, Will Dvorak, Craig Berry, Joe Al, and Walter Schwenn for the setup and take down of plants and flowers to decorate the stage at Camp Randall.
Sign installation
Thank you to Scott Fischer [Grounds] for the installation of the amazing and highly photographed '2021' sign at the bottom of Bascom Hill.
Waste and recycling removal
With a pandemic still around us, Housing move out looked a little different this year. Move out was scheduled for eleven days, rather than the very busy three-to-four days of the past.
Waste and Recycling (W&R) as a team went above and beyond to ensure trash/recycling collection sites were clean, orderly, and all containers were emptied in a timely manner. This year's trash and recycling removal was the responsibility of the FP&M Waste and Recycling Team.
Previously, FP&M Waste and Recycling teamed up with another outside vendor for trash removal efforts to assist UW Housing. With fourteen large 20–30 yard roll-off containers placed at Housing residence halls across campus, they added containers for recycling. Move out had a very slow start, but sure picked up speed the last three days making it similar to past move outs!
As a key member of the Sustainability team, W&R also assisted Housing with futon collection and donation sites across campus.
We are very proud of this team for helping make student housing move out a success!
---
Transportation Services provided free parking and assured traffic flow for a successful Commencement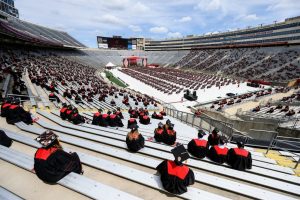 The director's team at Transportation Services would like to recognize staff from Special Events, Booths, IT/Gate Techs, Field Services/Maintenance, and Communications for successfully organizing parking operations for commencement weekend. It took careful planning to make parking free while also preventing gridlock in areas with high concentrations of visitors, such as Camp Randall Stadium and the Union South Hotel.
Programming ticketing machines for "$0.00"
Leading up to commencement, the IT team programmed ticketing machines across campus to charge zero dollars throughout the weekend. IT staff and Booths dispatchers implemented the special rate structure right on schedule.
Clearing high traffic lots
Special Events and Booths staff also prepared for the weekend by restricting visitor parking in high traffic lots near Camp Randall and Union South Hotel.
Bus shelter upkeep and wayfinding signs
Additionally, Field Services staff thoroughly cleaned the bus shelters around Camp Randall Stadium and placed wayfinding signage in key areas to welcome and assist campus visitors. Finally, our communications specialist developed and circulated news about commencement parking to let participants know how and where to park, as well as to alert members of the campus community whose parking would be impacted by the temporary adjustment.
Customer service
Thanks to the coordinated efforts of our team, parking operations on commencement day ran smoothly. Booths staff raised and lowered gates in the Engineering Drive Ramp at the end of each commencement ceremony to prevent delays for those leaving the facility. Special Events staff were available in several lots to answer visitors' questions.
By enabling free parking across campus and providing excellent customer service on and prior to commencement day, graduates and their visiting friends and families could focus on enjoying the celebration.
-Patrick Kass
---
Learn more
Spring Commencement photo library
Learn more about the Class of 2021 and watch videos of speakers at the Commencement event