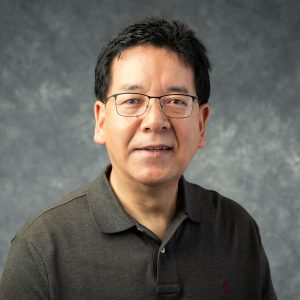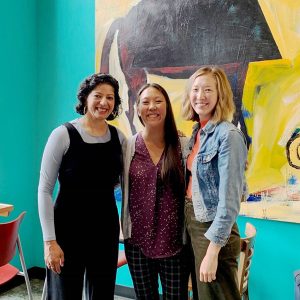 FP&M employees Anjali Sridharan, Business Process Improvement Manager (Office of Sustainability) and Yeshe Gyatso, 2nd shift Custodian (Physical Plant) will serve as panelists at the UW-Madison Diversity Forum on November, 2, 2021 at 10:30 – 11:45am. Register for the session "The APIDA Community in Wisconsin: Our Lived Experiences on Campus and Beyond" to attend the event in-person at Union South or virtually. This event is right after the keynote address by Dr. Russell Jeung.
At FP&M, we are always looking for ways to learn about our colleagues, recognize one other's successes, and share campus resources to learn about engagement, inclusion, and diversity (EID). Anjali, a member of the FP&M EID committee, was happy to share a little bit more about her participation in the upcoming forum.
---
Anjali Sridharan on becoming a panelist at the 2021 Diversity Forum
How did you get involved as a panelist at the Diversity Forum?
Anjali: I and a few others from the APIDA (Asian American Pacific Islander Desi American) affinity group on campus agreed to do the panel because we wanted to introduce more people to the term APIDA.
We worked with the Diversity Forum organizers to propose some ideas for the panel topic. We really pushed to get a variety of APIDA folks on the panel who represent the different areas of the university — because there are many of us; and we're all over the place: first shift, second shift, third shift; staff, faculty, students — everyone.
There are many ways to describe our identities, background, or heritage. What do these words mean to you?
Anjali: Identity is our complete picture. Heritage is just a part of who we are. For instance, when I meet people they might guess that I have an Indian or South Asian heritage. But then I open my mouth and it's very clear that I'm a midwesterner!
The point is that none of us can be easily classified into a simple category that describes our identity. I think that's why it's nice to have a term like APIDA. It's making a valiant attempt to describe a group that is so broad. I mean, the Asian continent is huge!
From missed meeting to marvelous opportunity
Many of us have attended a virtual meeting at one point or another. Perhaps we've even signed up for a meeting with the best of intentions but missed it because we were too busy. But once we do make it to the meeting, it adds value to our lives and our work. Or at least, that is what happened to Anjali.
How did you get involved with the Asian American Pacific Islander Desi American (APIDA) group?
Anjali: I had never joined an affinity group before. In the past I'd only heard about the other affinity groups on campus. Before the APIDA group was created, I never knew of a group where I felt that I was really included.
When did that change?
Anjali: I started hearing about new affinity groups on campus, and then one day I heard there was an APIDA group. "APIDA" was a term I hadn't heard before and I had to look it up. The "Desi-American" part of "APIDA" was so fulfilling to hear.
And it was like, for the first time, they know we exist.
There were many APIDA affinity group meetings that conflicted with other meetings I had, and finally, one day, early in 2021 I was able to attend one. It was so amazing to see all the different kinds of faces on Zoom that made up APIDA. It's a hugely broad group.
And then I got to connect with a few APIDA colleagues during a breakout session, and one individual mentioned that they were interested in creating a panel for the Diversity Forum. I wrote down their names, contacted them, and the rest is history!
What does APIDA mean to you?
Anjali: APIDA is an attempt to take a long-standing term – Asian American – and broaden it to be more inclusive. The Asian American Pacific Islander portion has been around for a little while, and "Desi" is a term that Indians call themselves, but officially in this context it is intended to include all South Asians.
APIDA people are part of the cloth that makes up the university. We've been in Wisconsin and at UW–Madison for a long time, so it's nice to help others to see who we are through the panel.
Who else is on the panel?
Anjali: The other panelists consist of UW-Madison staff, faculty, graduate students, and others from the university community.
There's Yeshe Gyatso (FP&M), Yangbum Gyal (CLS), Assel Almuratova (graduate student), Natalie Chin (VCRGE Sea Grant), Rebecca Johnson (CALS), Tev Lee (APIDA student program leader at the Red Gym), Lori Kido Lopez (Asian Studies Program faculty), and Kevin Wong (UW Survey Center).
Everyone on the panel comes from a variety of different identities and backgrounds connected to APIDA and ties to places in Asia. So, as you can imagine, there are a very diverse range of identities that are represented. I am proud to be part of a panel group made up of people with a range of identities including Indian or Desi American, Tibetan, Korean American, Hmong, Japanese, Kazakhstani, Chinese, and Taiwanese. We hope that you can join us on November 2.
Hear more from Anjali and Yeshe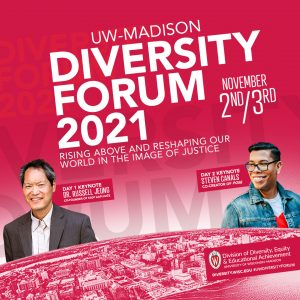 Join Anjali, Yeshe, and the rest of the panelists at the Diversity Forum during the session: The APIDA Community in Wisconsin: Our Lived Experiences on Campus and Beyond on Nov. 2, 2021 at 10:30 – 11:45am at Union South or online via livestream.
The session "The APIDA Community in Wisconsin: Our Lived Experiences on Campus and Beyond" brings together a panel of APIDA-identifying faculty, staff, and students who will shed light on the varied backgrounds and shared experiences of the APIDA community at UW–Madison and in Wisconsin. The panel will share about their lived experiences, discuss the need for stronger community amongst APIDA-identifying colleagues, and address how the university community can create a more inclusive and welcoming environment for all.
The event is right after the keynote address by Dr. Russell Jeung. Register to attend by visiting go.wisc.edu/df21-register and check out the full agenda of events at the 2021 UW-Madison Diversity Forum.