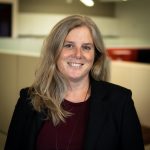 Holly Laux O'Higgins (she/her/hers) has been selected as FP&M's new Director of Capital Planning. Holly transitioned to this new role on March 14, after serving as the Interim Assistant Director of Capital Planning.
As the Director of Capital Planning, Holly will develop capital programs to address the university's strategic, long-range physical planning needs.
Before joining UW-Madison, Holly worked with the State of Wisconsin for 23 years,
leading efforts around accessibility to telecommunications as the Universal Service Fund Director at the Public Service Commission, and leading a broad range of programs and initiatives including utility construction projects, energy efficiency and conservation activities, and access to benefits and services for people with disabilities.
Holly holds a Bachelor of Science Degree in Speech Communication with Public Relations with minors in Journalism and Broadcast Technology from the University of Wisconsin-Platteville.
As the Interim Assistant Director of Capital Planning, Holly collaborated with Campus Planning and Physical Plant to develop and submit the University of Wisconsin-Madison's biennial capital budget, and promote the work across campus to improve the built environment.
"I look forward to leading Capital Planning to implement efficiency and develop partnerships across campus to support UW Madison's mission," said Holly.