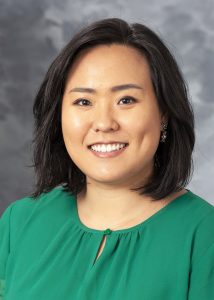 As a result of the pandemic and other changes in the job market, it's now more challenging than ever for FP&M to find talented and qualified candidates for our many job openings. 
Joy Benz joined FP&M at the end of January as Recruitment Manager to lead a team of recruiters that include Dawn Bierman, Lisa Raetzman, and Cinthya Canicoba. In this role, Joy helps identify recruitment and acquisition strategies and consults with leadership to improve our recruitment efforts. This includes coming up with innovative ways to attract applicants, improving our recruitment and hiring process, and acting as a consultant for recruitment strategies. 
"I have really enjoyed meeting and getting to know the different stakeholders at FP&M. Even though I am a Badger, I did not realize how much influence and impact FP&M holds on campus. So far, I've got to meet a lot of the leaders and some supervisors," said Joy. 
"I even got a tour at the Charter Street Heating & Cooling Plant, which I found very exciting! I am hoping to make our recruitment processes more efficient and empower our supervisors to get out of their comfort zone when it comes to recruitment," she said. "My goal is to make FP&M an employer of choice and be a desirable place where applicants will be thrilled to work and grow."
Joy's extensive experience with both UW-Madison and UW System make her ideally suited to the recruiting challenges FP&M faces in today's tough labor market. Before joining FP&M, she served as a HR Business Partner for two and a half years in the School of Medicine and Public Health (SMPH). Prior to working for SMPH, she worked in other HR-related positions at UW-Madison and with UW System.
"I am excited to have Joy onboard in this new and critical role," said HR Director Sue Fritts. "Her background, recruitment knowledge, and positive can-do attitude makes her a great addition to the FP&M team." 
Joy graduated from UW-Madison with a bachelor's degree in Art History and holds a master's degree in Human Resource Management/Personnel Administration from Saint Mary's University of Minnesota. Joy is originally from South Korea and is passionate about equity, diversity, and inclusion work. She has twin boys and two dogs who keep her busy outside of work. She enjoys eating good food, building relationships, and visiting new places. 
If you would like to get in touch with Joy, she can be reached at joy.benz@wisc.edu or 608-890-2476. Her office is located on the third floor of 30 N. Mills; she works a hybrid schedule.