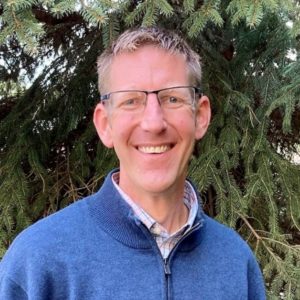 Jesse Decker (He/Him/His) has been named Employee & Facility Safety Director in FP&M Environment, Health & Safety (EH&S). He stepped into his new position on August 1, 2022.
As the Employee & Facility Safety Director, Jesse will direct the development and implementation of the institutional safety program. He will be collaborating with EH&S and campus units to assess occupational practices that result in engineered, administrative, and technically viable occupational safety methods.
"I am looking forward to serving the University at a larger scale, enhancing and building on the existing partnerships between the Safety Management Programs and our Campus units," said Jesse. "UW-Madison is a continually changing institution and we need to be prepared for both the challenges we face currently and opportunities where we can improve the safety of our employees, students, and facilities. I am fortunate to be joining an EH&S Office with strong support and an insightful leadership team."
Jesse first joined UW-Madison in 2018 and served as the Director for Safety at the College of Engineering. He also served as a researcher and radiation safety officer in the biotech industry and was the Risk Management Officer at UW-Platteville from 2014 to 2017.
As the Director for Safety in the College of Engineering, Jesse was responsible for building a culture of safety while serving as the college liaison to EH&S and providing analysis of workers compensation injuries to Risk Management. He led emergency planning for the college, was responsible for developing procedures and programs to assist with regulatory compliance and established criteria for measuring the effectiveness of safety programs.
"In support of FP&M's goals to support safety, Jesse will be leading the effort to develop and implement the safety programs that will help promote the continuous improvement of our safety performance," remarked Chris Strang, EH&S Assistant Vice Chancellor. "With his previous UW experience, Jesse is well positioned to help us drive these improvements in campus operations, instruction, and research. He has been a great partner to EH&S and FP&M during his tenure at the College of Engineering, and we look forward to him joining us as we work to expand and improve our personal and facility safety programs."
Jesse holds a bachelor's degree in Biology from University of Wisconsin-Parkside, and a masters degree in Occupational Safety and Health from Columbia Southern University. He also serves as the leader of the Campus Safety, Health, and Environmental Management Association Electrical Safety Community of Practice.