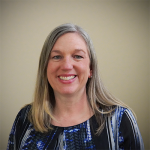 Dawn Ness (she/her/hers) has been named FP&M's Chief Financial Officer (CFO). Dawn transitioned to this role on January 15, after serving as the FP&M Business Operations and Purchasing (BOP) Services Director until that point. She has been directly responsible for all daily business operations, financial, and procurement transactions in that previous role since 2019.
As the Chief Financial Officer, Dawn will support FP&M leadership and staff with accurate and reliable data, navigate the Administrative Transformation Program (ATP) implementation, and provide excellent service from the Business, Procurement, and Financial offices.
"I am excited about the future and I look forward to being able to expand the level of service I have provided to FP&M and the campus community in my previous role as Business Office Director to a wider audience," says Ness.
Dawn began her accounting career in the manufacturing industry where she advanced into leadership before joining the University of Wisconsin in 2007 where she has been serving UW System and UW-Madison ever since.
"If your work has involved purchasing or paying for something for the last three years, chances are Dawn and her team were involved" stated Deputy Associate Vice Chancellor, Margaret Tennessen. "In addition to her background with FP&M, Dawn has an in-depth familiarity with higher education in Wisconsin. Her experience with a wide variety of software implementations, including Physical Plant's transition to AssetWorks, will also help lead the division in responding to Workday and other ATP changes."
Before joining FP&M, Dawn worked for UW-Madison's Division of Business Services, Material Distribution Services, and Surplus with a Purpose (SWAP), as well as UW System and Madison Area Technical College. She holds a Bachelor of Arts degree in Accounting from Lakeland College.
Dawn succeeds Tony Helmke, who left FP&M to take a position at UW-Milwaukee.
---
Brad Bauman has been appointed Interim Business Office Director during the recruitment of Dawn's replacement. Thank you, Brad!