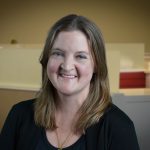 Ellen Agnew (she/her/hers) has been named the Director of Services at Physical Plant within FP&M. Agnew transitioned into this role on June 19, after serving as the Interim Director of Services since February 2023.
In her position, Agnew will continue to direct and coordinate a large team spanning several departments, including Custodial, Grounds, Campus Services, Waste & Recycling, and Pest Control. She will also continue developing customer, vendor, and employee relationships, and improving a variety of processes for FP&M service staff.
"I look forward to continuing my work within FP&M and the UW–Madison campus," said Agnew. "I am excited to expand upon opportunities for excellence in facilities and service by providing a safe, aesthetically pleasing, and sustainable campus environment."
Agnew first joined UW–Madison in 2003 as part of the FP&M Physical Plant Grounds team, working as a gardener and horticulturist. In the years since, she became a Grounds Supervisor and led the horticultural program responsible for maintaining all of campus's 938 acres, before eventually becoming the Grounds Superintendent. In 2018, Agnew served as the university's Interim Manager of Mechanical Services, a position responsible for managing Plumbing, Steamfitter and Maintenance Mechanics Shops across campus. A few years later, she also stepped up to serve in an interim role, this time as the Interim Director of Services.
"Ellen brings a great depth of experience with the UW-Madison campus," said Physical Plant Interim Executive Director, James Bogan. "Over the past 20 years, she has worked her way up from serving as front line Grounds staff to supervision to leadership. I'm especially pleased that this role is being filled by a person who has made their career here in Physical Plant. We have a great organization today, and I think Ellen will help us continue our journey of constant improvement."
Agnew holds a Bachelor of Science degree in Horticulture Production Systems from UW–Madison and is an APPA Certified Education Facilities Professional (CEFP). She is also an ISA Board Certified Master Arborist (BCMA). Since joining the university, she has served on more than 10 committees, including most recently Bee Campus, Facilities Use, and Zero Waste.
Agnew succeeds Kris Ackerbauer, who retired in February 2023.