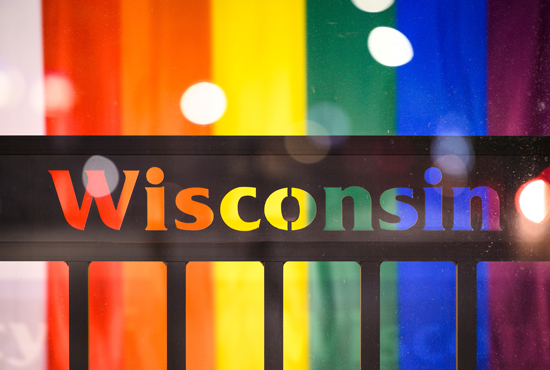 We celebrate LGBTQ Pride Month annually in June. As we continue to celebrate and work toward equal opportunity for lesbian, gay, bisexual, transgender, and queer (LGBTQ) people, we look to our many resources including the UWPD's very own "Pride Team" on campus. We can also reflect on our shared history: as catalogued by the UW Archives, while considering the role of Black trans people in the movement as explained by the UW School of Social Work.
As Chancellor Rebecca Blank and Vice Chancellor Lori Reesor stated, "Equality and inclusion are cornerstones of our core values at UW, and we recognize there is still much work to be done. On campus, that means making this a place where our LGBTQ+ community feels fully included and at home. Off campus, that means sending our alumni out into the world to advocate for the full human and political rights of all people."
Black trans activists at the heart of Pride
Fifty-one years ago, on June 28, a protest that began outside a bar in New York City that helped spark change. We pause to reflect on these important insights from the UW School of Social Work on the important contributions from Black trans people:
"June is designated Pride month, a time for us to reflect, celebrate progress, and advocate for continued LGBTQ rights. But this year, Pride is different in many ways (….) now is a more important time than ever to remember the Pride Movement's roots and acknowledge that Pride would not exist if it weren't for the efforts of Black LGBTQ activists. Protesting police brutality and demands for equality were at the heart of the Stonewall riots in 1969 and leading the way were Black trans activists like Slyvia Rivera & Marsha P. Johnson."
– Lynette Studer and Amanda Ngola, Co-chairs, Committee on Diversity
Stephanie Robert, Professor and Director
Local LGBTQ history
It is true that the Stonewall riots helped to make other important advancements possible. As we celebrate this month, we can also look back at our history of LGBTQ life in Madison and Dane County.
Beginning with a few oral histories, this UW-Madison Archive collection features a diverse array of materials and voices from the LGBTQ community. Explore the collection for oral histories, personal papers, photographs, ephemera and organizational records related to LGBTQ life in Madison and Dane County from the 1940s to the present.
UWPD Pride
This history and continued support for LGBTQ people recognized as a part of everyday life on campus, including the University of Wisconsin–Madison Police Department (UWPD.) As a leader in progressive policing and community engagement, UWPD is proud to have it's very own "Pride Team." This is a group that helps "further our department's mission of inclusion to our expansive campus and surrounding community."
---
FP&M wishes everyone a safe and happy Pride month.