What's your job? is a new series focused on the work of FP&M employees. As the largest and most diverse nonacademic unit on campus, it can be challenging to learn everything our division is responsible for. These stories will shine a light on FP&Mers and what they do to keep campus safe, sustainable and successful. 
Samuel Lawrence's official title is Facilities Maintenance Technician III, but the work he does extends far beyond simple repairs.  Facilities Planning & Management is filled with many incredible workers who have talents for a variety of tasks. Sam is one of those amazing people.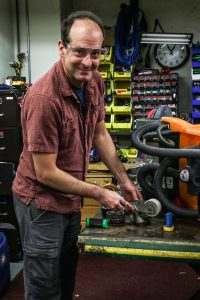 FP&M employees take pride in achieving consistent results, made possible by having specialized equipment to take care of campus buildings and spaces. But what happens when these complex machines break? That is where Sam comes in. Along with Russell Evans and Perry Jones, Sam is one of three technicians in Physical Plant's custodial unit who restores the custodial machines on campus. While Russell works with snow equipment and Perry with bathroom equipment, Sam is the only technician who repairs large, battery-powered custodial machinery. 
The machines he repairs are like electric cars because they both run on their batteries and drive the same way. However, they only have an approximately four year battery life and put out energy slower than a car. 
There are about 20 different types of machines with several variations of each that Sam repairs, including carpet cleaners, wet vacuums, and floor scrubbers. Many machines are operated by pushing them forward, but there are also standing (stand-on) and sitting (ride-on) pieces of equipment. All come back to Sam's workbench for repairs, but his favorite machine to repair is the stand on floor scrubbers, because "they are fun to test ride".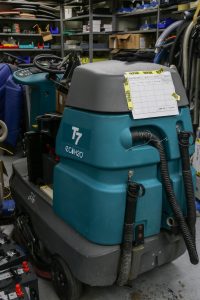 Sam found his love for repairing at a young age. While most kids were playing with race car toys, Sam would have much more fun with digital alarm clocks. From before 10 years old, Sam would take them apart so he could put them back together. After an item was broken and before it went to the trash, young Sam would try to figure out how to put the pieces back together. By the time he got to high school, Sam was working at Parman's Service Station, a full-service gas station and garage. When he was not pumping gas, Sam was assisting the mechanics.
Throughout his six years at FP&M, Sam has done countless repairs and continues to do more each day. 
With dozens of machines to fix, FP&M keeps resource books on how each machine is made, but Sam has mastered the work to the point where he mostly repairs from memory without referencing the books. Typically, Sam is able to complete a repair within a couple hours. Depending on how many repairs are needed that day, Sam will complete between one partial repair to five machine repairs daily.  
Sam's time-saving expertise is helpful because sometimes parts must be ordered for the equipment, meaning custodial colleagues will have to wait days or potentially over a week before getting their machine back. In these situations, custodians will borrow an extra machine or use traditional equipment, like a mop and bucket.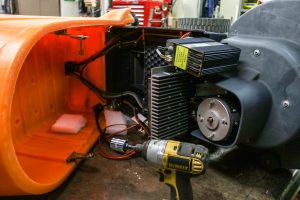 Handling parts is not the only part of repairing complex machines.  Safety is a large part of the job as well.  Sam wears personal protective equipment while working to protect him from hazards such as battery acid, which requires careful handling and disposal.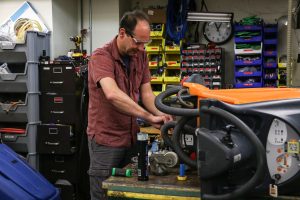 Unlike disposing of battery acid, the rest of the materials, whether broken or new, are not disposed of. Instead, the parts are recycled, repaired, or resold. 
Sam is looking forward to scanning the QR codes that FP&M has begun adding to equipment. Just as each person has their own unique fingerprint, each piece of custodial equipment will have a distinctive sticker with a scannable code so staff can more easily identify equipment. 
As a kid who loved taking apart and putting broken household items, he had no idea he would be working every day doing just that! 
As an employee and an active part of the FP&M Engagement, Inclusion & Diversity (EID) committee, Sam continues to work hard every day to make sure his coworkers can succeed. 
by Ariella Breyer