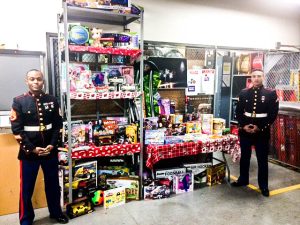 Each year, employees of FP&M come together to raise funds and collect toys to benefit the kids served by the Marine Corps Toys for Tots event. In 2022, employees generously donated 287 new toys and games and raised $1,500 in cash!
The organizers would love to keep the tradition alive in 2023 but are in need of volunteers and someone to step in as a co-chair.
Volunteers will coordinate events, accept monetary donations, and assist with toy collections and delivery.
If you are interested in helping out for this amazing tradition, please contact Melissa McGaw, melissa.mcgaw@wisc.edu, or Carrie Ensrud, carrie.ensrud@wisc.edu.
---
To learn more about Toys for Tots fundraising efforts over the years, you may view previous Toys for Tots activities.