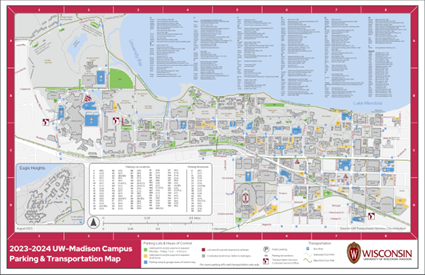 Transportation Services has created a brand-new parking map for the UW-Madison campus community.
The new map has a variety of improvements over its predecessor, including increased accuracy and detail. For example, the new map now shows the locations of parking lot driveways, bus stops, sidewalks, multi-use paths and the additions of Eagle Heights and University Houses.
The map is also GIS-based, which means all features and landmarks are based on official geographic data. This detail helps with map updates moving forward and can even be used to create targeted maps for special purposes.
Employees can find the new map on the campus maps webpage or pick it up at customer service. Anyone on campus can also download and print the map using 11″ x 17″ paper.
Thank you to the Transportation Services department for all their hard work!