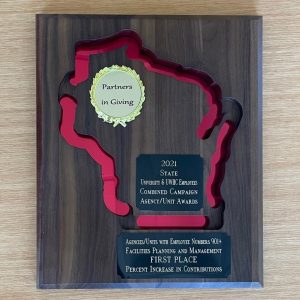 Your generosity is something to celebrate.
FP&M has received the 2021 Partners in Giving Award for First Place: Percent Increase in Contributions, Agencies or Units with Employee Numbers 901+.
According to FP&M Partners In Giving 2021 campaign co-chair, Christopher Strang,
"We set a goal to increase our contributions this campaign and we are excited to hear that we succeeded. We had an excellent team leading the effort and a supportive organization behind us wanting to contribute to a great cause."
FP&M was recognized by Partners in giving for its great work at an Award and Volunteer Recognition Event on March 10th.
Together, State and University and UW Health employees raised almost $2.1 million for over 500 community organizations that benefit from this campaign.
---
Thank you, departmental contacts!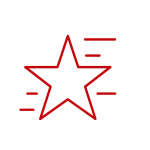 The FP&M Partners in Giving chairs give a special thank-you to the departmental contacts who helped make the campaign run well, be enjoyable, and make the campaign accessible to all staff!
Pat Fargen
Molly Lenz
Pam Zander
Missy Nergard
Emily LaSavage
Ellen Agnew
Jenna Suhr
Anne Bogan
Lauren Hawley
---
Thank you to everyone who donated and/or participated in the fundraising activities, including Cutest Cat Contest, Cutest Dog Contest, Who's That Baby Photo Guessing Game, Penny Wars, Bingo with Mystery Caller, and the FP&M Virtual Cookbook.
It was a lot of fun. Enjoy some photos from the 2021 FP&M Partners in Giving fundraising campaign and activities!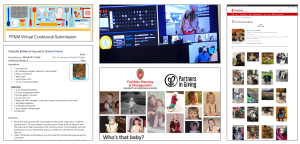 clockwise from upper left: FP&M Cookbook submission form, virtual Bingo, Cutest Pet contest, Who's That Baby photo guessing contest, a page from the cookbook.

The FP&M Partners in Giving Planning Committee met via Teams.