In support of FP&M's strategic initiatives, EH&S has added a brand-new position: People and Building Safety Manager. This position was created to build on the safety programs within FP&M and expand them across campus units.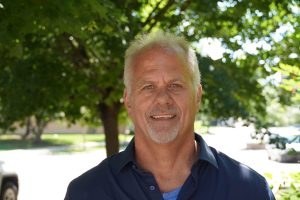 Karl Stelzer, formerly Workplace Safety Specialist, has been selected as the People and Building Safety Manager in FP&M Environment, Health & Safety (EH&S). He began this new role on September 11, 2022. Karl will be leading the development of site-specific training and helping campus units identify their overall needs.
This position came from EH&S Assistant Vice Chancellor Chris Strang's recognition that while the need for occupational safety is recognized within FP&M, it should be improved in other units across campus. Employee & Facility Safety Director Jesse Decker will develop the overarching strategy and work with campus units to help them adopt and benefit from the Occupational Safety Program.
As the People and Building Safety Manager, Karl will be responsible for managing, developing, administering, and implementing programs designed to reduce risks and minimize losses associated with employee safety at UW-Madison. Karl's 12 years of safety experience at the university, including workplace safety for FP&M Physical Plant and EH&S departments, have equipped him to take on this new role.
"Karl is a significant asset as we look to continue the development of a culture of EH&S compliance and best practices to provide a safe working environment within both the Physical Plant and across the UW Campus," said Jesse Decker, Employee & Facility Safety Director. "I am looking forward to working with Karl to grow our Campus employee safety programs."
In the past, Karl has enjoyed helping FP&M employee customers in a wide variety of occupations and locations. His work has taken him many places; from steam tunnels to roofs, and from parking structures to wide open fields at the research station in Arlington, Wisconsin. He is looking forward to broadening existing successful safety programs for customers on campus, including Housing and Athletics.
When asked what he would like more people to realize about safety, Karl replied,
Take a safety moment. It's really simple — something we can all remember. Pause to think about what you're doing and how to prevent it from potentially harming you or others.