Signage, construction and furniture updates
Physical Plant staff continues to install updated signage throughout the building. Directory and elevator signage is complete. Room name/number signage is in progress and being completed one area at a time. Division signage is currently being designed and coordinated. Division signage will be a window film, so it's easily visible from the hallway, whether the office is occupied or not.
Minor construction work continues to take place on the fifth and sixth floors with all work expected to be complete by the end of March.  We apologize in advance for any disruption as there may be some additional noise and traffic. There may also be some periods where the large freight elevator (East Campus Mall side) is reserved for the construction team.  Please avoid any areas that are taped off or enclosed to control dust.
Some conference and huddle room chairs were delivered late last year. (Please keep these chairs where they are.) Additional tables and chairs are expected to be delivered mid- to late January for the following rooms.
Please clear out the following rooms by Friday, January 7, in preparation for new arrivals:
Sixth floor: 6100U, 6102a, 6114, 6165, 6200R, 6206, 6210, 6214, 6238, 6315, 6405, 6421, 6413, 6416, 6426, 6437, 6440, 6459.
Seventh floor: 7306, 7328, 7331.
If you have questions, please reach out to your DMC or submit it online.
---
Locker and cubby assignments distributed
OAVC and FP&D locker and cubby assignments were sent by Jesse Luckey Winters December 9. If you did not receive your assignment, please fill out this form. Banks of lockers and floor plans have labels on the sides, and you can also check out the numbered floor plan.
---
Day-to-Day: Where will my stuff go?
As we adjust to a new address and new modality possibilities,  what everyday life will look like. This is the first in a series of posts called "Day-to-Day," to answer questions about what you can expect. 
Even in an increasingly on-the-go, mobile world, we still need space for our belongings, as well as tools and equipment needed to perform our jobs. At 21 North Park, there will be a variety of options for storage that are in the works.
Equipment to do your job
Whether you require a printer, plotter or a fax machine, you'll have access to the equipment, tools and space to do your job. While there will be limited storage for files, space will be available for necessary paper files (secured and not), as well as workspaces for plans and other large documents.
In addition to work stations, collaborative space and meeting rooms, the Office of Space Management and Physical Plant staff members have worked with FP&M leaders and supervisors to ensure employees can complete work tasks in their new addresses.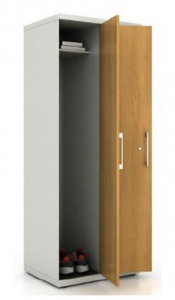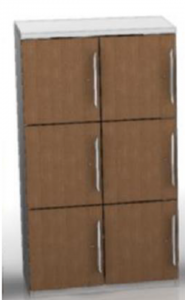 Your belongings
If you have an assigned workspace in your new location, you can keep personal belongings in your space. 
If you do not have an assigned workspace, you will have access to a locker and cubby. Both are assigned and lockable with keys, meaning your belongings will be secured and you won't have to switch lockers or cubbies each time you come to your building. Lockers will be 59 inches high and contain a boot tray, so you'll have plenty of space for outerwear. It will also have an adjustable shelf and of course, a lock. Cubbies are 18"x18"x20" each and have an adjustable shelf, as well as a lock.
Visitors' belongings
In addition to spaces for your personal belongings, visitors to 21 North Park will also have a place to hang their jackets or bags. Similar to FP&M space now, there will be coat hooks or trees available.
While the solutions may look different, the outcome will be the same: when you arrive for on-site work, you will have a place for your belongings, as well as a workspace and equipment to do your job. If you have concerns about how to store work tools and equipment or your belongings, please contact your DMC.
---
September 20 Update:
The move is proceeding well, with the majority of materials at 21 North Park. However, please continue to work remotely Tuesday, September 21. If you need to briefly access your workspace on Tuesday, please note your materials may be in transition and not where you expect them to be.
---
September 15 Update:
We are on track for your previously announced move dates (September 20-22). Please keep purging and packing to make sure you are completely packed no later than the end of day, the day before your move.
Packing guidance
Please pack and label everything that is moving before your moving day.

All files and materials need to be in boxes.
Boxes must be taped shut and labeled with the destination building and room.
Furniture and equipment that is moving must be labeled with the destination building and room.
Computer equipment must be ready the day before your move:

Employees are responsible for disconnecting and labeling computer equipment.

Unplug all computer cables and accessories (keyboard, mouse, hub, headphones, etc.) and put them in the keyboard bag (supplied).
Place moving labels on the back of your monitor(s), monitor arms, desktop computer, docking station, and keyboard bag.
Do not put your computer equipment on a cart.
The movers will pack your computer equipment on a padded computer cart the day of the move.
If you have a laptop computer, take it home with you so you can work off-site during the move.
AIMS will be available to help set up computers at 21 North Park Street.

Unwanted materials that are not moving must be disposed of before the move.
Moving Day: What to expect
For your safety, please plan to work remotely (from an alternate location) on your moving day. Please let your manager know where you will be working.

Only the Department Move Coordinators (DMCs) should be on-site during the move.

The DMC will help direct the moving crew and answer questions during the move.
The moving crew will arrive on site at 8:00 a.m. unless other arrangements are made.
The moving crew will start by walking through the project with the DMC to develop a plan for the day and identify items that require special handling.
The moving crew will prep boxes and items that are moving and put the computer equipment on computer carts.
At the new location, the crew will use the information on the move labels to move the boxes, computers, furniture, and equipment to the correct location.
If you have questions on any of these steps, please contact your DMC.
As you prepare for your move, the general floor plans for 21 North Park are available. (Note all floor plan links are large PDFs that you may want to view on a tablet or larger):
Although the seventh floor will be ready for move-in, there will be minor construction until mid-October.
Thank you for your hard work packing, purging and getting ready for this move. If you have any questions, please reach out to your DMC or submit a question online.
---
August 26 Update:
EH&S employees,
With the deadline for packing up your workspace approaching, we wanted to update you on the FP&M relocations and what you can expect next.
First, thank you for your cooperation in the first steps of this complicated process. The series of moves we are undertaking will require patience and flexibility across the division, and we recognize that in a time of a great deal of change for FP&M, the university, and each of us, adjusting to different work situations can be stressful.
Due to the interconnected nature of these moves, each step's schedule is dynamic. With that in mind, we will keep you informed on overall progress, what's next for your unit, and steps we'll be asking you to take. We'll also be reaching out with opportunities to hear more and provide your feedback. In the meantime, here are a few updates:
What's next?
We are now targeting September 20-22, 2021 for your move to 21 North Park Street. This means EH&S staff will need to be packed and ready to move prior to your move date, listed below:
EH&S staff located at 30 East Campus Mall

will move on September 20. On moving day, your workspace will not be available, but equipment housed on the first floor (fire extinguishers, etc.) at 30 East Campus Mall will be accessible. Please plan to work in an alternate location on September 20. Starting September 21, your workspace on the seventh floor of 21 North Park Street will be available.

EH&S staff located at 333 East Campus Mall and WARF

will move on September 21. Your workspace will not be available that day, so please plan to work in an alternate location the day of the move. If you need equipment housed in the ergonomics showroom or lab space on September 21, please contact your move coordinator. Starting on September 22, your workspace on the seventh floor of 21 North Park Street will be available.

We will share additional details in the coming week.
 (As a reminder, Remote Work Agreements are due August 31.)
If you have questions about packing and purging, please reach out to your move coordinators:

As you can tell, the schedule remains fluid and is affected by many factors. We plan to share regular updates with you and will give you as much notice as possible when action is required. You can also check the FP&M Relocation Hub for news and resources.
Thank you,
Brent Lloyd
Director of Space Management