See shout-outs and kudos for those who have been going above and beyond.
---

Pat Humphrey and Physical Plant Customer Service
Much appreciation goes to Pat Humphrey from the Sheetmetal shop for his work to repair and secure loose metal coping on a rooftop, and to the Physical Plant Customer Service team for coordinating the response! The customer from the School of Human Ecology reached out to personally thank everyone involved.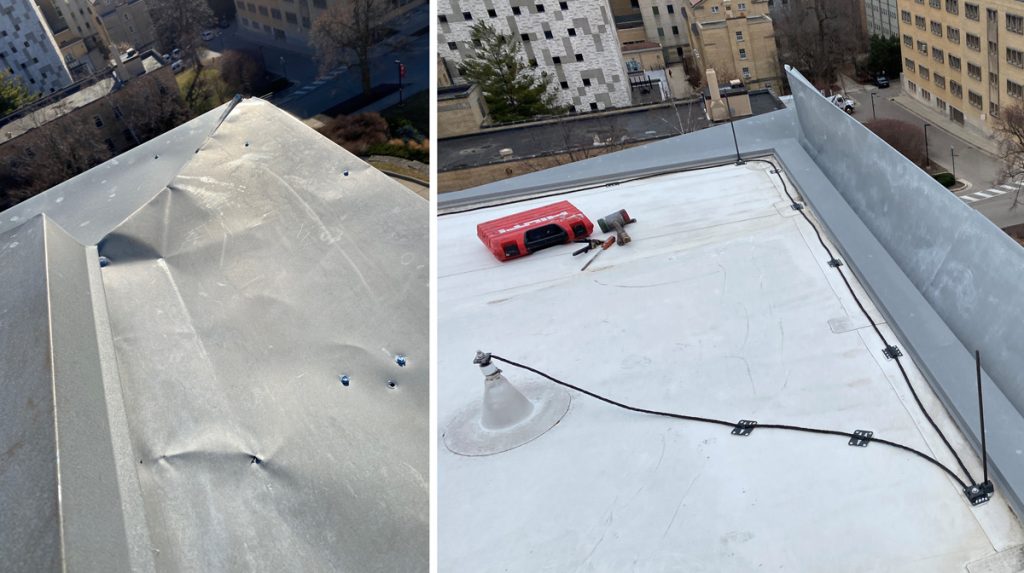 "Just want to give a big shout out to the FP&M team for dealing with [the] situation on the Nancy Nicholas Hall roof yesterday so promptly. Great work!"
-Natalie Feggestad, Associate Dean of Administration, School of Human Ecology
---

Tony Helmke, Ken Dvorak, Kylie Brommerich, Jill Koeller, Ryan Yanke
Shout-out to: Tony Helmke, Ken Dvorak, Kylie Brommerich, Jill Koeller, and Ryan Yanke for their support of the December financial forecast submission to MBO. The team showed great flexibility when receiving meeting requests and ad hoc analytical requests. They met a very tight forecast deadline while maintaining standard operations and collaborating with the new Budget Manager. Their teamwork and professionalism is very much appreciated.
-Amy Rognsvoog
---

Mario Contreras
Mario has been a dedicated member of Custodial Crew 340 for a decade. He has found and turned in several expensive or extremely important personal items to me, so I may get them to the Bldg. Manager.
Most recently, Mario found a wallet with not only several dollars, but Credit cards, debit Card, WisCard, Drivers License etc… We were able to reunite the wallet to the owner, whom was overjoyed. They offered Mario a reward, which Mario humbly refused. So proud of Mario's honesty and dedication. A blessing to have on my staff! Muchas Gracias Mario!
-Johnny Lohrentz
---

Suzanne Kostic
Shout-Out to Suzanne Kostic for being an all-star! I think you seize your opportunities to educate your coworkers about purchasing, which is an under-appreciated aspect of FP&M's operations. Personally, I learn something new from you about it each time our paths intersect. Awesome job, and it's great working with you!
-Ryan Yanke
---

Jenny Hayes, Jennifer Kobesko, Patty Perdzock-Haas and Dr. Pitts
Hooray for Jenny Hayes, PA, Jennifer Kobesko, RN, Patty Perdzock-Haas, RN and Dr. Pitts, MD for handling some tricky exposures recently in Occupational Medicine. What an incredible job of TeamWork!!
-Patty Perdzock-Haas
---

Strategic Communications Team
A huge thank you for the amazing Strategic Communications team – Lori Wilson, Steve Wagner, Allison Bua-Demus, Jake Stottler and student Isabel Ullrich for their tireless work bringing us the All Staff meeting, Recognition video and Watch Parties, Employee Newsletter and for their help in building out the new FP&M Position Specific Training Tool and new Employee Checkpoint emails. Amazing team always there to help with a "can do" attitude.
-Alicia Meyer
---

Is there someone that deserves a kind word or quick thank-you?
Recognize a coworker by sending them a shout-out to be featured on Inside FP&M and in an upcoming FP&M Employee Newsletter.
---
Give even more substantial recognition for someone's exceptional efforts over time — nominate an FP&M employee or team for a Recognition Award.
Complete the form on Inside FP&M: go.wisc.edu/nominate-fpm for the annual awards. Nominations are accepted year-round.
See tips for a successful nomination here.
---
Employee recognition is part of our culture. Learn more on the FP&M Employee Recognition program page and how to get involved directly with the Employee Recognition committee.